Wat het alles in die Grensoorlog gebeur? Die Tweede episode van die bos/grensoorlog reeks Maandae aande 8nm
As jy nie Grensoorlog beleef het nie sal jy dalk nie alles mooi verstaan nie. Dit die tyd waarin ons jong mans wat toe nog net maar seuns was opgeroep is om diensplig te doen en op die lands grense vir Volk en Vaderland te veg.
Ons Meisies en vrouens was by die huis en nes ek die het die wag tyd ervaar – die wag vir daai brief, –  die wag en  die verlange om net maar weer aan hom te kan raak en in sy oë te kan kyk ,-  en die daaglikse onophoudelik gebid –  dat die Vader tog net sy hand oor hom sal hou  en hom weer veilig huis toe sal laat kom.
Daar is baie wat vermink huistoe gekom het en baie….. wat nie huistoe gekom het nie.
Op 26 Augustus 2011 was dit 45 jaar sedert die sogenaamde "Grensoorlog" of "Bosoorlog" in die noorde van die destydse Suidwes-Afrika (SWA, sedert 1990 amptelik bekend as Namibië) uitgebreek het – 'n stryd waarna, volgens hierdie resensent, eerder as die Namibiese Vryheidsoorlog (1966–1989) verwys moet word. Derduisende lede van die destydse Suid-Afrikaanse Weermag (SAW) – meestal nasionale dienspligtiges – het een of ander tyd aan "die grens" diens gedoen, en meer as 700 het in aktiewe diens gesterf. Die Suid-Afrikaanse veiligheidsmagte wou aanvanklik bloot keer dat die guerrillas van die South West Africa People's Organisation (SWAPO) nie SWA infiltreer nie, maar in 1975 het die SAW by die  burgeroorlog, wat in Ango la uitgebreek het toe dié Portugese kolonie onafhanklik geword het, betrokke geraak. Hulle het derhalwe vir meer as 'n dekade lank in die suide van Angola bly opereer.
Die oorlog in SWA/Namibië en in Angola het die lewens van miljoene mense geraak – ook aan die "tuisfront" in Suid-Afrika. Die dramatiese politieke omwentelinge in Oos-Europa en in die Unie van Sosialistiese Sowjet-Republieke (USSR) aan die einde van die 1980's/begin 1990's, die daarmee gepaardgaande beëindiging van die Koue Oorlog, en die ewe dramatiese politieke veranderinge in die Republiek van Suid-Afrika (RSA), veral in die jare 1990 tot 1994, het die einde van die Namibiese Vryheidsoorlog en die onafhanklikheidswording ("dekolonisasie") van SWA/Namibië in 1990 oorskadu.
HIS NAME LIVITH FOREVER MORE
I regret to announce the death of former SAAF Helicopter Pilot Major Arthur Walker HCG and Bar; SM (1953-2016) who passed away this morning 28 March 2016 after losing his battle with cancer. Our thoughts go out to his wife and family.
During January 1981, two Alouette Helicopter Gunships with Captain Walker as flight leader, carried out close air support operations resulting in the Alouettes coming under intense enemy artillery and anti-aircraft fire. He only withdrew when ordered to do so. Later Captain Walker returned to the contact area to provide top cover for a Puma assigned to casualty evacuation. Again he was subject to heavy enemy anti-aircraft fire. During the withdrawal the second helicopter developed difficulties and called for assistance. Yet again Captain Walker returned to provide top cover drawing virtually all the anti-aircraft fire to his Alouette. His courageous act prevented the loss of an Alouette and crew.
Captain Walker's actions were not only an outstanding display of professionalism, devotion to duty and courage, but also constitutes exceptional deeds of bravery under enemy fire and make him a worthy recipient of the Honoris Crux Gold.
(Bar to HCG)
During December 1981 Captain Walker was again requested to provide top cover for the evacuation of a seriously wounded soldier. On take-off with the evacuee his number two helicopter was hit and crash-landed. Without hesitation and with total disregard for his personal safety Captain Walker landed near the wrecked helicopter and immediately searched for the crew. Eventually the situation became suicidal compelling Captain Walker and his crew to withdraw. When he was airborne he spotted the missing crew and yet again, without hesitation and despite the fact that virtually all enemy fire was now directed in his direction, he landed and uplifted the crew to safety.
Through this courageous deed he prevented the loss of two men. His distinguished actions, devotion to duty and courage make him a credit to the South African Defence Force in general, the South African Air Force in particular and make him a worthy recipient of the Bar to the Honoris Crux Gold.
His name will not be forgotten.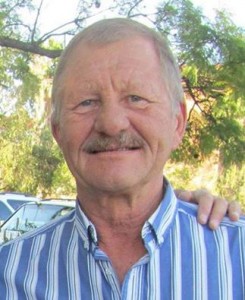 Another Absolute Legend in Aviation and the Military has passed away! R.I.P. Arthur Walker HC (G) (and bar) SM
One of the best military helicopter pilots the world has known, and a true legend! Salute!
Condolences to his family and friends!
FOR THEM THE LAST POST HAS SOUNDED
On 28 March 2016, let us pause for a minute to remember the following young men from our Generation who answered the Final Roll Call.
28 Mar 1978: 75523621BG Sapper Michael Andries Stephanus Nel from 101 Field Engineer Regiment was Reported Missing while swimming in the Okavango River after he was attacked by a crocodile. He has no known grave and remains unaccounted for. He was 19.
28 Mar 1979: 05514153PE Sergeant Robert Daniel Burt from Sector 70 Headquarters SWATF was killed in a private motor vehicle accident. He was 26.
28 Mar 1979: 75249631BG Rifleman Dennis Colin Golden from 1 Parachute Battalion was accidentally killed by own forces near Otavi. Dennis was the last person in the stick to jump just before sunset and his parachute drifted further away than the rest. After a Temporary Base had been set up, it was getting dark when Dennis arrived and unfortunately, a Paratrooper mistook him for an SWAPO/PLAN insurgent who were known to be operating in the area at the time and everyone opened fire in his direction. At first light the following morning, a sweep of the area was conducted and his body was located and subsequently recovered. He was 19.
28 Mar 1979: 74592940BG Rifleman Nikos Pavlakis from Infantry School Died of Wounds when his patrol, while moving along the Cut-line, was ambushed by a numerically superior force of SWAPO/PLAN insurgents between Beacon 11 and Beacon 12. He was hit in the head by mortar bomb shrapnel and although every effort was made to resuscitate him, he succumbed to his wounds without ever regaining consciousness. Nikos was part of the Infantry School COIN training phase and was with a platoon of Junior Leader candidates that were deployed to the Operational Area. He was 20.
28 Mar 1980: 77493260BG Trooper Leon Oosthuizen from 1 Special Service Battalion was killed after suffering multiple shrapnel wounds in an accidental hand grenade explosion at the General De Wet Training Area. He was 18.
28 Mar 1981: Three members of 1 Parachute Battalion died of multiple shrapnel wounds at the Barracks in Bloemfontein. There were twin Brothers in the barracks and the one brother, who had picked up a "dud" 60mm High Explosive mortar bomb on the range, dropped the mortar bomb in the middle of a crowded bungalow after supper and the bomb exploded, mortally wounding the three. The other twin Brother lost his leg in the same incident and many other troops were wounded. The bungalow walls were also riddled with shrapnel. The twin brothers were not seen in the Unit lines again. The casualties in this most unfortunate incident were:
78442050BG Rifleman Petrus Jacobus Pieterse. He was 18.
77518702BG Rifleman Johannes Daniel van der Westhuizen. He was 19.
78395324BG Rifleman Elias Jacobus Nicolaas Beukes. He was 18
28 Mar 1983: Special Constable Nghiwaniva Nghiyayela from the South West Africa Police Counter-Insurgency Wing: Ops K Division (Koevoet) was Killed in Action during a contact with SWAPO/PLAN insurgents in Northern Owamboland. He was 26.
28 Mar 1985: 83898973SW Rifleman Kleopas Mbango from 101 Battalion SWATF was Killed in Action during a contact with SWAPO/PLAN insurgents near the Cut Line. He was 23.
28 Mar 1987: Special Sergeant Martin Lukas from the South West Africa Police Counter-Insurgency Wing: Ops K Division (Koevoet) was Killed in Action during a contact with SWAPO/PLAN insurgents in Northern Owamboland. He was 32
28 Mar 1988: Special Constable Manuel Sevelenu from the South West Africa Police Counter-Insurgency Wing: Ops K Division (Koevoet) was Killed in Action during a contact with SWAPO/PLAN insurgents in Northern Owamboland. He was 25.
28 Mar 1990: 68232560PE Commandant John Orr, Officer Commanding 2 Squadron returned from a training sortie in his Mirage IIICZ and while debriefing at the Squadron, he suddenly collapsed. He was evacuated to 1 Military Hospital in Pretoria where he succumbed. The subsequent post mortem determined that he had suffered a rupture in his esophagus. Whether the rupture was caused due to high G-Force exerted during the morning air combat manoeuvers he had flown or whether it was due to natural causes could not be precisely determined. He was 37.
Their names and sacrifice have not been forgotten.
As jy 'n storie het om te vertel. of lewer  kommentaar  of stuur vir my 'n epos by nuus@saukradio.com dan word dit ingesluit in die volgende program oor die Bosoorlog  Maandae aande om 8nm op SAUK Nuus Radio.
Indien jy 'n program wil aanbied op SAUKradio of jou besigheid wil adverteer kontak ons gerus.
ons epos adres nuus@saukradio.com
---